Beehive Brae gets Aldi buzzing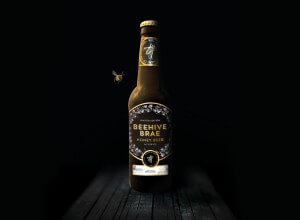 One of the UK's fastest growing, sustainable craft beers has been snapped up by leading supermarket chain Aldi as part of a major summer promotional drive.
Beehive Brae Honey Beer will appear across the major multiple's 67 stores throughout Scotland, bringing this full-bodied, artisan blonde to the attention of craft beer lovers North of the Border.
As the label suggests, every bottle of Beehive Brae Honey Beer is brewed for the 'betterment of bees', with parent company Plan Bee driving the growing movement to protect and preserve Britain's dwindling honeybee populations.
Richard Holloway, Managing Director of Aldi in Scotland, said:
"Scotland produces some of the best craft beer on the market and the Aldi Beer Festival allows our customers the opportunity to try a wide array of beers that are not all readily available. We are sure this Beer Festival will be a great success for Aldi and the brewers involved."