The Birds and the Bees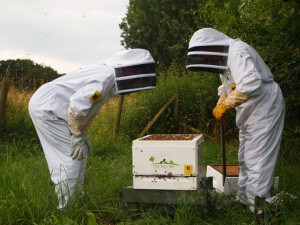 It's a case of the birds and the bees as Surrey Veterinary practice Oak Barn Vets adopts a beehive from leading UK sustainability business, Plan Bee Ltd.
The Guildford based Vets will welcome around 60,000 new visitors to the large grounds surrounding their 400-year-old barn location in the Surrey Hills. While the team at Oak Barn look after the birds, Plan Bee's Brett Adshead will look after
the bees.
Louise Ketteridge, Veterinary Surgeon and Partner at the practice said:
"We're delighted to be playing our part in protecting the natural environment, and already the bees are starting to create a buzz with our customers. Many of Oak Barn's regular pet owners have been asking how the bees are getting on and if they can try some of the honey. Our primary concern has always been the welfare of animals and that now includes helping to protect and preserve dwindling honeybee numbers. These vital little creatures are essential to all our survival, and we want do what we can to ensure they thrive."