Plan Bee flying high!
We are flying high after being shortlisted for the prestigious 2degrees Champions Award ceremony at Wembley this July, but know that we face some worthy adversaries in the shape of Virgin Atlantic and Yorkshire Ambulance Service to name but two. Among our fellow nominees at the event is Matt Damon.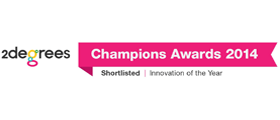 "We're delighted to even be shortlisted for these most prestigious of sustainability awards. More than 7,000 people have voted on each of these categories and to be rubbing shoulders with the likes of Richard Branson is outstanding. For a Scottish business, and there are a few of us nominated, to be taking on some global big hitters, particularly this year is a bonus. We won't be too disappointed if we don't win this time round but we're going to give it a good crack."
The 2degrees network comprises 39,000 professionals working across the burgeoning sustainability sector. The ethos is to drive efficiency and growth through more sustainable practices. That is why Plan Bee epitomises everything that they stand for.
While we have only been in operation for a couple of years, we are already growing a reputation for sustainable business management and not only boasts some major brands as clients but also has a cabinet full of awards and similar nominations. This year alone we made the top ten of the BBC's Food and Farming awards from a list of thousands of similar organisations. We have a Legacy 2014 accolade for the Commonwealth Games, are a Glasgow Business Awards winner and numerous prizes for start-up and entrepreneurship, and have been recognised by the European Commission.
"It is important for a fledgling business such as ours to be recognised by our peers in this way. We are a small company with big ambitions, so rubbing shoulder with the likes of Virgin Atlantic is indeed breath-taking. Such ceremonies help us to raise the profile of the business, but more importantly raise the profile of declining bee populations and the efforts that every business can make to save these tiny creatures which are responsible for a third of all the food we eat."