Industry leaders welcome new labels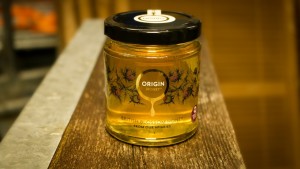 Plan Bee's new Origin Honey labels are receiving wide acclaim across the food and drink industry.
Last year the Origin brand picked up a total of three Great Taste Award gold stars; two for its Scottish Heather Honey and one for its British Blossom Honey. This led organisers the Guild of Fine Food
to call Plan Bee an 'elite UK producer'.
Tortie Farrand, Marketing Director for the Guild said:
"It is wonderful to see Great Taste award-winning producer Plan Bee launching their beautiful new labels, a design which matches the quality of what is inside their jars. The honey is bound to fly off the shelves this summer!'
The Origin Honey brand carries a wide variety of honeys from Scottish Heather Honey to British Blossom Honey, Glengoyne Single Malt Whisky Honey and an exciting Infusions range which features Madagascan Bourbon Vanilla, Keralan Cinnamon and Italian Truffle Honey.
Mark McDavid, Plan Bee chairman, an FMCG big-hitter with some thirty years' experience across the industry. He concluded:
"Already our honey is being enjoyed around the world, from Europe to Asia. We want to not only promote our own brand internationally, but also the quality of Scottish produce. We believe that the key elements of what makes Scottish food, and in particular what makes Scottish honey great is encapsulated into our new label. It is clear, and allows the product to speak for itself, which all good produce should. I'm delighted with the outcome and know that buyers, distributors and customers around the world will also be delighted with this eye-catching product."