Designs on success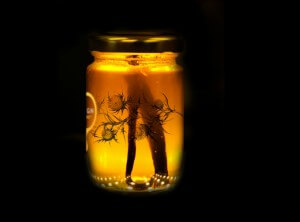 Leading honey producer, Plan Bee is creating a buzz with its stunning new Origin Honey labels.
The sustainability business rebranded its honey range last year following a hugely successful crowdfunding project. The online investment project also allowed the company to develop the Beehive Brae mead and craft beer brand, which has also received acclaim for its stand out labels.
The label design is the conclusion of a long journey.
That young designer was Robert Doyle, a product of Edinburgh Napier University's Design and Digital Arts course. Robert is proof of Plan Bee's triple bottom line philosophy of planet, people and profit, which has helped him to develop his enviable design skills for international product development.
Programme Leader for Napier's Design and Digital Arts department, Andrew O'Dowd added:
"We work with designers to develop their ability in both design tools but also in design thinking. Robert's work has always demonstrated intelligence and playfulness that has the ability to connect with communities not just the individual. It is no surprise that his approach and the ethos of Plan Bee are working so well together."