Busy bees, busy weekend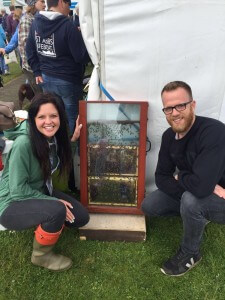 It was a busy weekend for the Plan Bee team, working across a number of shows, festivals and sampling sessions throughout the UK.
While often damp and windy, the sun came out for the team working at the RSPB Big Nature Festival in Musselburgh near Edinburgh.
Our Origin Honey varieties went down a storm with twitchers and other visitors to the event, including children's television presenters Ferne Corrigan and Rory Crawford from CBeebies' 'My Pet and Me'. They showed particular interest in our observation hive, which allows youngsters the opportunity to see a real beehive in action.
Our new recruit Brett returned to the double Deli of the Year, The Hungry Guest to allow their regular customers to taste our Origin Honey and Beehive Brae ranges, which the Petworth store has recently started stocking.
At Largs Food Festival those from near and far were loving our honey and Beehive Brae honey beer. It was a mixed weekend for weather, but the Sunday sunshine brought out the crowds to this popular Ayrshire event.