No Bees, No Christmas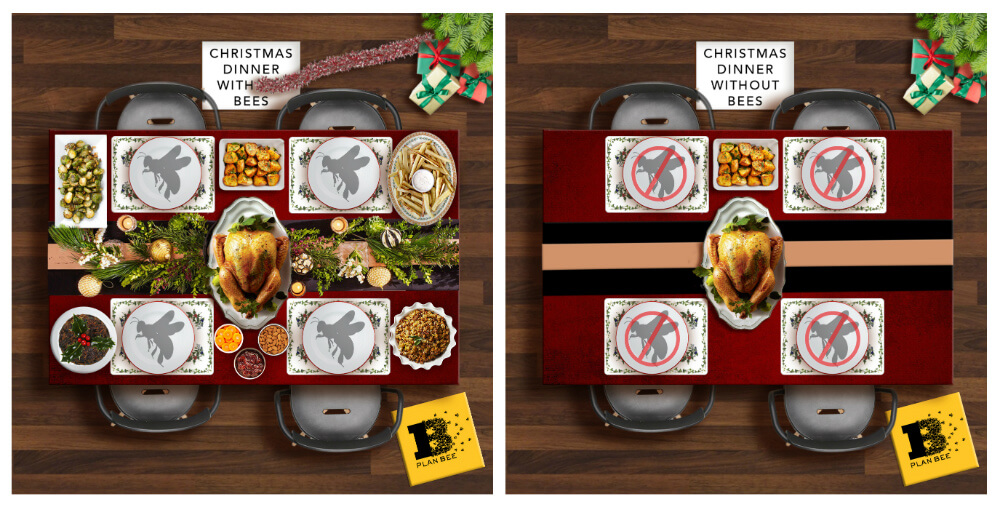 We're all rushing about like busy bees preparing for Christmas. But without those busy bees there wouldn't be a Christmas as we know it, and certainly our Christmas Dinner would be pretty grim.
Many of the yuletide staples and trimmings that we have come to expect as part of the great Christmas feed would cease to exist if it wasn't for the humble little honeybee and its friends. Honeybees are responsible for pollinating a third of the food that we eat. And without them, your big family feast would be greatly depleted.
The team have extensively promoted the extent to which our dinner tables, fridges and supermarket shelves would be effected without this tiny little creature.
University of Reading research found that honeybee populations had declined by around 50% in the last two decades through climate change, poor pesticide management and man's negative impact on the environment. University of Bristol research has also found that honeybees and their pollinator friends are responsible for 80% of all plant species in Europe including both fruits and vegetables.
Plan Bee works with businesses big and small, from family-run companies to global brands to install and manage beehives. Working with dozens of companies, they've helped to preserve and protect more than 10-million honeybees in over 200 hives stretching from Aberdeen to Cornwall.
The eco-innovation business has attracted a number of new 'partnerships' in 2015 including Kellogg's, L'Oreal, Low Carbon and British Gas, as more and more companies realise the importance of protecting honeybees and extending their sustainability reach. With one colony of honeybees capable of pollinating 4000m2 of fruit trees, Plan Bee's partnership colonies could pollinate an area of agricultural land more than 110 times the size of Wembley.
Mark McDavid, Plan Bee Chair and experienced FMCG (Fast Moving Consumer Goods) Managing Director added:
"Plan Bee is about helping people to realise the importance of these tiny creatures in protecting the delicate balance of our ecosystem. They play a huge part in the UK's £96Bn food industry and its time that across the sector we all supported them more. Just looking at our Christmas dining table both with and without bees should be enough to spur us all into action. This is the most precious meal of the year, but it has a much wider reflection that hits home the impact we are having on these tiny creatures and our wider environment."
ENDS